Yesterday was my first official day of summer vacation! Sadly, I wasn't able to sleep in since work wanted me to go in a 7am (and they didn't even use me, mehhh).
I got home just in time to say good-bye to Trevor who had come home the day before to help celebrate his dad's birthday and then made breakfast and made plans with Amanda to go to the mall.
She came and got me in her adorable yellow bug and we went for lunch at Lazy Dog (so gooood) and roamed the mall for a while. Amanda bought a pair of high-heels to induct her into the world of stilettos and I finally bought a pair of white converses!
Amanda dropped me off and I went to dinner with my mom, sister and grandma and then we headed to the High School to see Katie receive her special sash from National Honor Society for graduation. It was the shortest ceremony ever and we had time to rush over to the pageant meeting for the last hour.
Whew, epically long day.
All I really wanted to do was go to the pool, but sadly, they changed the keys (those horrible members of the HOA) and my family hasn't had a chance to pick up the new one.
This is what I wore to the mall.
And for the rest of the day, for that matter.
Outfit:
Black blouse, JC Penny's. Sometimes, the sales there are too good to say no to. I think I wound up with this top for like, $2.90. I love how flowy the sleeves are and how when you wear it, you never feel large.
Lace tank, Love Culture
Pants, Marciano. Marbled capris. Once again may I say, I'm most likely going to be living in these this summer.
Sandals, Payless.
My sister has been trying to dress 100% for the past few days and I really think she's doing a wonderful job. The other night, her and Miss. Warshaw raided my dresses and necklaces and came up with a few looks for the rest of the week.
Apparently, she now has bets going with her friends that she can't wear a cute outfit everyday through the rest of next week. We'll show them!
This was one of the looks we put together while I was watching Glee on my tiny TV since the big one wasn't working: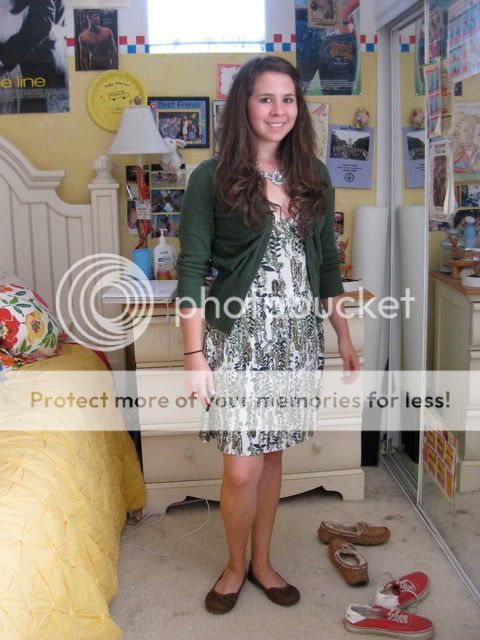 Outfit:
Dress, label unknown. I bought this dress for 40 euros when I was in the South of France during Summer of 08. It's honestly the softest, most comfortable material I've ever worn…and it looks good on pretty much everyone.
Necklace, bought for me by my mom from White House/Black Market. Easily my favorite necklace.
Cardigan, Katie's own.
Brown Flats, bought on sale at Kohl's for $5. I helped Kate beg my dad to buy them for her. The offer was too good to pass up and they look so cute on her!